Post by clint on Jan 8, 2013 22:33:08 GMT -6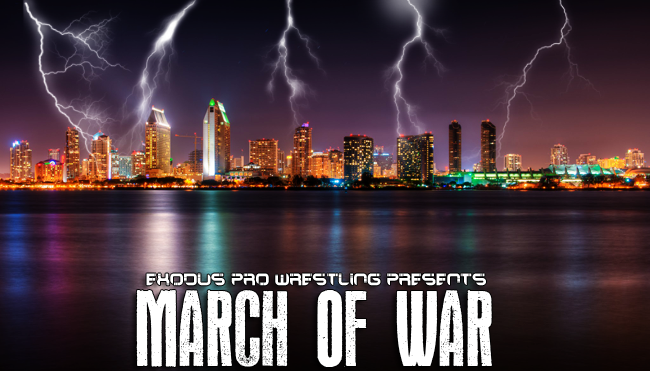 MARCH OF WAR
February 10, 2013
RIMAC Arena (E-Pro Central), San Diego, CaliforniaRP Deadline:
Central Time Midnight between Friday, February 8, 2013 and Saturday, February 9, 2013 CST UTC-6 hours
Greenwich Mean Saturday, February 9, 2013 at 6:00:00 AM UTC
Eastern Time Saturday, February 9, 2013 at 1:00:00 AM EST UTC-5 hours
Pacific Time Friday, February 8, 2013 at 10:00:00 PM PST UTC-8 hours
Segment Deadline:
24 Hours after RP Deadline
MAIN EVENT: WINTER ROAD TOURNAMENT FINAL: EXODUS PRO HEAVYWEIGHT CHAMPIONSHIP MATCH!
WINNER OF SEMI-FINAL A
vs.
WINNER OF SEMI-FINAL B
-This is what it all comes down to, folks! The Winter Road Tournament Final Match, to crown the first EXODUS Pro Heavyweight Champion. Earlier in the night, we'll see the two semi-final matches, and the winners will advance here, to the main event of March of War! Eight hungry competitors entered, and two will rise above, with one reaching the pinnacle of EXODUS Pro, and becoming the talk of the wrestling world!
Winter Road Semi-Final Match!
OMAR WISE (W/ DONOVAN TORMENT)
vs.
WINNER OF THE PLAYOFF MATCH
-Omar Wise has one benefit of winning his block; he'll only have to win two matches to become EXODUS Pro Champion! But he doesn't know right now who his opponent will be! Going into E-Pro TV, the winner of the Cannon vs. Park match was expected to face Omar Wise! But when those two went to a time limit draw, temporary Director Stewart Gadlin announced a playoff between the two! Now that winner would have to win THREE matches in one night to win the EXODUS Pro Title!
Winter Road Semi-Final Match!
EXODUS PRO INTERNATIONAL CHAMPION FIONA ROURKE (BLOCK B #1)
vs.
KLIFF ULYSSES
-The other semi-final match is set in stone! Fiona Rourke got her hands on Daisuke Iwakuma at the last E-Pro TV, but now, for a chance to win the World Title, she'll have to get past the other main head of LEGION, and that's Kliff Ulysses! Not just him, but you have to bet that Iwakuma, Itsumo Ichi, Audrey Lloris, and the newest members of LEGION, Kameron Chase, Gouken, and Magnus Gunner, can't be far away!
Winter Road PLAYOFF Match!
ABBY PARK
vs.
JOHNNY CANNON (W/ QUINN GOODRICH)
-The aforementioned Playoff Match! Park and Cannon meet one more time to see who faces Omar Wise later in the night!
EXODUS Pro Twitter Invitational: International Title #1 Contendership on the line!
SIX OF THE HUNGRIEST COMPETITORS IN THE WORLD: MICHAEL ALEXANDER (@mla_Phenom) VS. DOM HARTER (@tenaciouslb) VS. SUMMER (@sumgotsome) VS. MISS HEATHER HALLIWELL (@prettyliltexan) VS. BRYAN AXEL (@_BryanAxel_) VS. TARYN GRAVES (@dirttydivataryn)
-In honor of EXODUS Pro's budding Twitter presence, Director Jonathan Collins issued a decree; the first six free agents to contact him over Twitter and commit to an EXODUS Pro contract would be granted a special opportunity! All six will be entered into a match, with the winner gaining not just bragging rights, but a chance at the EXODUS Pro International Champion, Fiona Rourke!
EXODUS Pro Tag Team Title Match: Run the Gauntlet!
FEATURING THE MIGHTY MOLLUSCANS, THE ICY REBELS, THE NINTH GATE, SINNERS INC, ALEX BROOKS & JAY ENCINA, AND THE KNIGHTS OF ANARCHY!
-It's an all out gauntlet to crown the first EXODUS Pro Tag Team Champions! Will it be the masked luchadors, Silver Squid & Orange Octopus? The Tyler twins, Tiami and Danielle? The SCW representatives, Adrien Specter and Jason Scorpio? The haphazard team of Alex Brooks & whoever he can get? LEGION representatives Daisuke Iwakuma & Kameron Chase? Or will it be the last added team of The Knights of Anarchy?
E-Pro TV #4 REMATCH! No Countouts!
JAFREESE "DEATHGRIP" FRAZIER
vs.
DANIEL PROPHET
-These two brawled throughout the RIMAC at the last E-Pro TV! In response, Rufus Frost and Jonathan Collins agreed on a rematch between the two to take place at March of War! The catch? They can't be counted out! Frazier and Prophet collide again at March of War!
The Return of Gunner!
MAGNUS GUNNER
vs.
JACKSON
-More and more guests coming to EXODUS Pro for this big event! Shortly after E-Pro TV, Magnus Gunner immediately got on the wrong side of two men; Director Jonathan Collins, and champion in CWF & MWA, Jackson! A match was quickly made, with Jackson making a guest appearance in E-Pro!
BIG Four Way Dance!
GOUKEN HAROSHI (W/ KANNA)
vs.
KEVIN BRODY
vs.
STEPHEN LENTON
vs.
ZORTALK (W/ DONOVAN TORMENT)
-We first saw Gouken Haroshi and his sister Kanna when he was presented as a gift; the newest member of LEGION to Daisuke Iwakuma! The beast of few words will have his work cut out for him as he enters the ring with the hyperviolent Kevin Brody, and THE BIG L, Stephen Lenton! After having his match changed, Donovan Torment made sure to have his client, "The Space Pharaoh" Zortalk, added to this match! It's Starmakers Ltd against LEGION, with Brody and Lenton thrown in, at March of War!
Singles Special Attraction!
KATHERINE REYNOLDS
vs.
RIZZO
-Last, but certainly not least, the deceptive Katherine Reynolds is making her EXODUS debut, and she'll face off against a man looking to rebound from an unsuccessful debut, in Rizzo!