Post by Nicholas Gray on Sept 4, 2015 15:27:53 GMT -6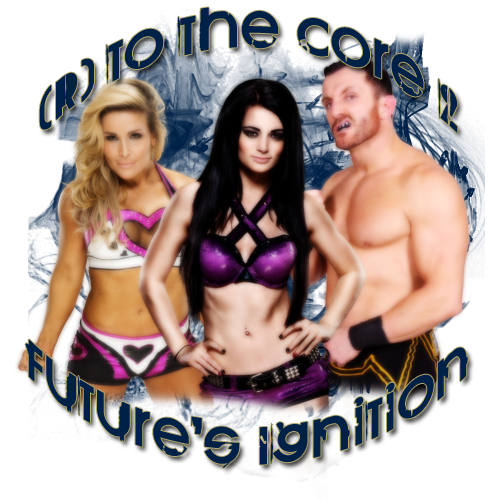 (R)EVOLUTION WRESTLING PRESENTS...
(Я) TO THE CORE II: FUTURE'S IGNITION
MONDAY, SEPTEMBER 14th, 2015
(R)EVOLUTION DOJO, SAN DIEGO, CALIFORNIA
THE MESSAGE WILL BE HEARD

ETHAN ANIMA vs. KAIDEN HAWKE
Kaiden Hawke has had a less than stellar time so far. While he's shown a great amount of potential, it has yet to translate to many wins. This show he has a chance to change that, as he faces the debuting Ethan Anima. People are unsure of how to take Ethan, who first showed himself putting his sister the Uroboros down, and has since preached a message of life and change. After outright begging for a chance to wrestle, it's been granted, but he has to face Kaiden. Will Kaiden change his fortunes, or will Anima's message prove too strong?
STREAK MEETS SUSHI
ISSAC SOLO vs. TAKERU YUUSOU
Issac Solo is a beast. Ever since his debut, Solo has laid waste to anyone in his path, racking up an undefeated streak while gaining the respect of the crowd thanks to his no-nonsense handling of people like Saad. And this show he steps into the ring with a man in need of a win. Takeru Yuusou's had a hard time lately, with loss after loss piling up on the Sushi Ronin's plate. But Solo's perhaps one of the toughest names to find yourself against right now, and his work will be cut out for him. With an RW title shot in his near future, will Solo add another notch to his streak, or will Yuusou's Fate finally change?
THE RIPPER VS. THE HYPER
EXPLOSIVO vs. JACKIE THE RIPPER FOWLER
Jackie Fowler's back, you may have noticed. You also may have noticed that he's in a sour mood. While we're still not sure where Jackie's been since disappearing a few months ago, it's clear that it's left him in a bad mood. A bad mood he's directed at old friends, old lovers, old women walking down the street, basically anyone. And now he has a chance to unleash his bad mood in the ring again, as he steps into the ring with EXPLOSIVO! The hyper young luchadore's been making moves on a member of #SectionB, though his in-ring career's been more frayed than that, with several recent losses on his record. Will Explosivo manage to change things around tonight, or will Jack let it rip?
MOUNTAINS COLLIDE
DARIUS REED vs. NAISER KING
Darius Reed hates Naiser King. This has been true for months and months, the eldest Reed attacking Naiser time after time, even going so far as to cost Naiser an Orange County title shot. After doing that, Darius made it clear that he considered their issues over with. Naiser did not agree. This pushed the Mountain-God King to a deep anger, and he's unleashed it on Darius all over the past cycle. Now, finally, they have their chance to put their issue to rest. Will the eldest Reed put the young War Machine away, or will Naiser show that a God-King will not be overlooked?
BROTHERS AT WAR
BRENDAN SAMUELS vs. CIARAN SAMUELS
Once upon a time there was a tag team of brothers, named Clann Lir. They worked well together, and seemed poised to go places in RW. And then one brother vanished, the other becoming afflicted with amnesia. The amnesiac brother joined a Pantheon as it's Poseidon, and shortly after that his brother reappeared. Now aligned with a computer, this Kraken has set his sights on the brother that doesn't remember him. When brothers go to war, what damage will be done to the tides of RW? If nothing else, this shows our friends below the border that our soap operas can match theirs...
A MOST MANLY FIGHT
ANWAR SAAD vs. GUNNAR STAHL
Anwar Saad makes friends well. The Egyptian MMA fighter has been a source of controversy since his debut, angering many with his outspoken views on racism and on people in (R)W and EXODUS. It got to the point where Saad was actually fired by Darrin Stearns! But multiple wrestlers actually made appeals to Darrin and to EXODUS Owner Nicholas Gray, wanting their chances to beat Saad's face. One of those was Gunnar Stahl, the one time member of BLOODSPORT and current War Machine. Gunnar and Saad was actually the first match announced for this show, and Stahl wanted his shot at him more than anything. And he'll be happy to know it was listened to. Saad has been reinstated, though he's been forbidden from social media. Now, the Lion makes his return to an RW ring. How has the time away affected Saad? And will it be enough to overcome a very angry Stahl, now with training help from Beowulf?
THE HUNT FOR EVIL CONCLUDES
EVE vs. MASATO KANEMOTO
Masato Kanemoto lives a life dedicated to destroying evil. So it was perhaps inevitable that he would set his sights on that woman who's taken up the title of the Perfect Evil, Eve. Making his intentions known by busting Eve's nose, Masato's made it clear that he puts no faith in Eve's assertions that she's a changed person. Now, finally, the Grim Hunter gets his chance to prove he's right, as he steps into the ring with Eve. Will Eve show that her redemption quest is for real, or will Kanemoto cut her down?
ACE VS. QUEEN
ELIZABETH LANNISTER vs. SYDNEY CHRISTENSEN
The past year's been a long and hard one for Sydney Christensen. Since losing the RW title, she's been embroiled not only in a long feud with the Uroboros, but also with the idea that she's lost something. While many fans still cheer her on as hard as before, it's clear that some fans have begun to lose a bit of faith in her. This is shared by some of the wrestlers, who have made clear that they think the woman who was once unquestionably the "Ace" of RW, is no longer that. Among those is Elizabeth Lannister. Lannister has made it no secret that she thinks Sydney's best days are behind her, and that her own time is now. And Darrin Stearns has given her the chance to prove that, as she and Sydney meet, with some "great prize" on the line. Will the Lioness show why she is the Queen, or can Syd show why she is still the Ace?
IMPACT VS. GODDESS - ORANGE COUNTY TITLE MATCH
CALEB STORM vs. VENUS ((r)W Orange County Champion)
Venus is riding a high right now. Since her debut she's shown off plenty of promise, that she turned into reality when she joined the Pantheon and became the inaugural Orange County champion (thanks to help from Daniel Lanning's fist) and is not shy at all at letting people know of her greatness. Not everyone buys this, of course, especially Caleb Storm. Storm has made it clear that he thinks Venus is all talk and no skill, which has only angered Venus, leading her to agree to this title match. With the belt on the line, will Aphrodite prove her supremacy, or will the Next Impact finally hit?
NUMBER 1 CONTENDERSHIP 6-TEAM ELIMINATION MATCH
DAMAGE INC. vs. IMPERIUM vs. KON-BAT vs. LOS FANTASMAS (HELL) vs. THE NAKED GUNS vs. VIOLENCE KX
No one likes Damon and Sue. This is a universal fact of life, that everyone wants to see them beaten. And we do mean everyone. During a match between Damon and Kohei Obata, Damage Inc ran in and attacked, bringing out every single RW team. This put Darrin Stearns into the salt bucket, and he decided to solve the problem of finding the next team to get a shot at beating up Damon & Sue by having everyone fight each other in an elimination match featuring every RW team. And to show how strong our relationship is with our friends in other countries, this match also features the ghost-based tag team of Los Fantasmas, Ikiryo and Calavera from HELL! When the RW tag division goes to war, what will happen? And as a "bonus" this match will be commentated on by Damon and Sue! Because someone hates us.
MAIN EVENT - SON OF DISASTER VS THE STARS - (R)EVOLUTION WRESTLING CHAMPIONSHIP MATCH
CAREY L. CALDWELL ((r)Evolution Wrestling Champion) vs. NoVaK
For weeks now, NoVaK has been in the head of the RW champion, seemingly infecting him with his NoVaK power. All of this in an effort to prove anyone can become like him. And, of course, to gain the (R)Evolution Wrestling title. Now, NoVaK's plan is at it's crescendo. Will he be prove he was right, taking Carey's title and light away? Or will the Son of Disaster make a last minute comeback?